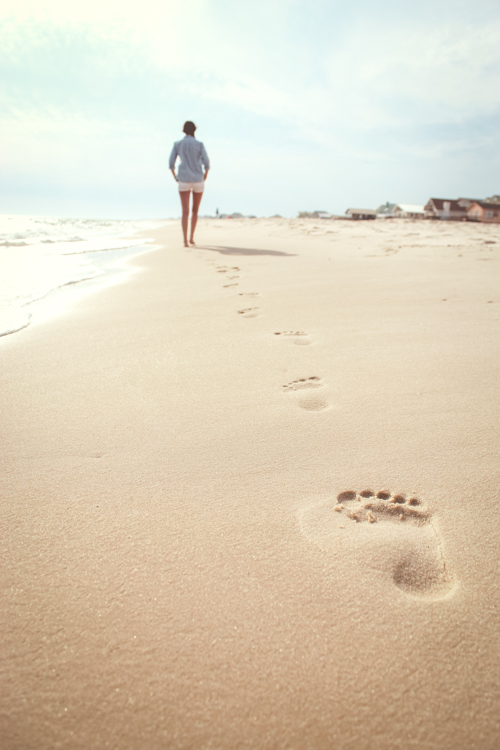 My chronic foot pain has gotten the better of me lately. It's a world I never expected to enter (at least not in my 30s!) and is often times lonely. With each doctor and medical professional who tells me they don't have a viable solution to offer, I lose more and more hope. There are days when I find myself falling in and out of depression. As there are no chronic pain support groups in my area, I started searching the online world and found surprisingly few personal stories about chronic foot pain – specifically for those under 40. Was I a rare case, or are there others out there who simply suffer in silence?
The latter proved to be true. I realized two things that seemingly contradict each other–that chronic pain sufferers assume no one wants to hear about their pain (so they don't talk about it), and that they also don't want to focus on their pain all the time (so they don't talk about it). Especially when there's no happy ending, or the ending is yet inconclusive, sharing about our struggles can make the listener feel helpless and dejected. We'd rather look at pretty pictures on Instagram.
But when I finally found some stories I could relate to (especially this story and this one), I did feel encouraged. At the least, less alone. So if there is anyone else out there who is in a similar position, I thought I'd finally share the full story of my journey in the last year. If you suffer from chronic foot issues (whether it's a neuroma, a stress fracture, plantar fasciitis, or a nerve impingement, as I have all four!), I'd love to hear about it and support you.
It started last June. I had worn a pair of new flats to run errands, and my foot didn't feel quite right after an hour. I took them off and figured the shoes needed to be broken into and I'd rest for the remainder of the day. The next morning I got out of bed and an excruciating pain shot up my left foot. I couldn't stand. I couldn't walk to the bathroom. So I crawled.
A friend came to visit later in the day, and not wanting to let her down, we went out for lunch and I pushed through the pain. The pain came and went, and this continued for about a month before I was able to see my podiatrist. After an X-ray and MRI, he told me I had a neuroma but it would get better. He told me to ice and rest, which is nearly impossible as a new mom with a four month old, but I followed the orders the best I could. I resorted to wearing chunky, supportive sneakers and have not worn regular shoes since.
Two months passed, and there was no improvement. I limped everywhere, as crutches overused my other foot (which already suffered from another problem). I saw a second podiatrist who made a pair of custom orthotics and gave me a cortisone shot. Both made little difference. She told me to wear an ankle brace, which didn't help either. Finally, she suggested physical therapy. I went for two weeks before the therapist told me, "You're fine," when clearly I wasn't.
Four more doctors, another cortisone shot, several different prescriptions of pain medication and then another physical therapist. This PT told me it would be months before I would get back on track, and after three months I finally noticed some signs of improvement. My hope renewed. Unfortunately, I also developed plantar fasciitis along the way.
This past April, I was waiting in line at the DMV when I noticed my left ankle started to hurt. The pain worsened by the minute, so I eventually just plopped myself on the ground, scooting my butt as the line moved. I was ever aware how ridiculous I must have looked when everyone else from 7 to 70 years old was properly standing, but I knew something was wrong.
The next week I saw a podiatrist who informed me that I now also had a nerve impingement, but he was sure it would go away after a while. How long "a while" was, he couldn't say. He offered to prescribe some steroids, which I ended up refusing after reading the side effects.
Two months later, and I'm not doing much better. I can currently walk about 5-10 minutes an hour before my left foot/heel/ankle/achilles/calf gets fatigued. If I push past this point, a dull pain starts to creep in within minutes, followed by a sharp pain and tingling if I don't sit down right away. The spoon theory is a genius way of explaining what chronic pain sufferers go through on a daily basis – once an hour I get a "spoon" on which I can use to either make myself a quick breakfast OR take a shower. If I'm having a good day, I can visit the grocery store OR meet a friend for lunch. I spend my day tracking steps, because if I go over a certain number I wake up the next morning in pain, and spend days recovering after that.
I've also seen a chiropractor, an acupuncturist, massage therapists that specialize in foot and bodywork, as well as trying an elimination and paleo diet. I've started taking daily supplements, calcium, vitamin D and vitamin B complex, in addition to different Chinese medicinal herbs. Our apartment is filled with all sorts of physical therapy gadgets, from a foam roller to an acupressure massager to a TENS machine. Acupuncture and massage seem to temporarily relieve pain for a day or two, but nothing seems to stick.
I do restoration yoga and swimming twice a week and work with a specialized trainer once a week. These are things I'm thankful for, as it keeps my body moving with minimal amount of pain. My instructors are also the people who have shown unwavering compassion and encourage me to not lose hope.
If you also suffer through chronic pain, I'd love to hear about your experiences. You can leave a comment here or email me. I do believe it is only through the support of a community that we can thrive and be our healthiest, happiest selves.