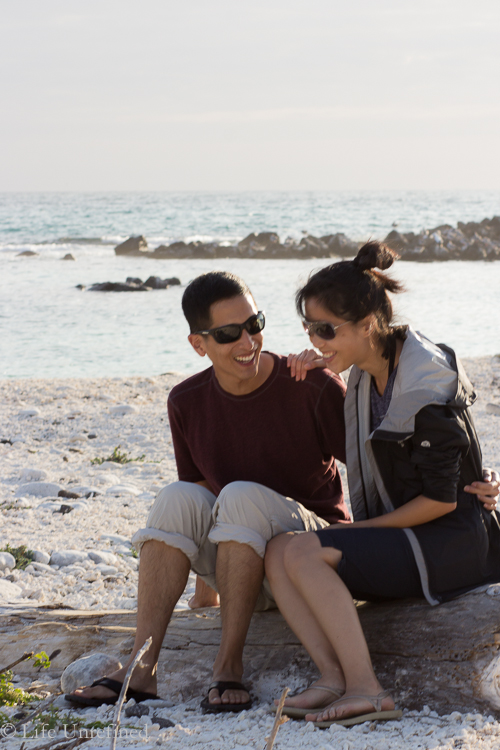 It wasn't love at first sight.
Or the second. Or the third.
After maybe the twentieth time we hung out together (and 3.5 years later), Mr. Wonderful took an interest in me because I pretended to smoke a french fry at a group dinner with mutual friends (classy, I know).
By the time we went on our first "date," I still wasn't interested in him. To be fair, I thought we were going on a date as "friends." If I had known better I would have declined altogether instead of leading the poor guy on.
But he persisted. And even though I was not attracted to him, I eventually decided to give the potential relationship a try. I let my brain win over my hormones. He was a good guy. My last boyfriend treated me badly. Why not?
This is where most people whom I have told this story to get confused. You mean you dated and then eventually married someone you didn't feel any initial chemistry with? How does that work?
It works because I felt comfortable with him.
For some people, feeling comfortable means boring. They want sparks, they want fireworks. They expect butterflies in their stomach as they look deeply into the other person's eyes. One friend told me how she had met this guy, and was sure he was "the one," because she literally felt electricity when they first held hands.
They broke up a few months later.
While chemistry and initial sparks can be exciting, a lasting relationship often thrives on the foundation of trust, respect, and compatibility. It's not about seeking a sugar daddy or relying on superficial attractions. If you're looking for genuine, long-lasting love, it's worth considering what truly matters in a relationship. For those interested in financial arrangements, look at this website, it might provide more insights into that aspect of dating.
When seeking a partner, it's worthwhile to look beyond material possessions or superficial attractions and focus on finding someone with whom you can build a life based on shared values, trust, and mutual respect. These enduring qualities are the foundation of a fulfilling and lasting love that enriches both partners' lives.
In my teens and early 20s, I looked for those things too. I only dated men that I thought were attractive, or at least ones that other women thought were attractive. I compromised myself in ways I now wish I hadn't. The worldly motto is to live a life without regrets, but I do have a few. I made mistakes, because too often I chose a book by its cover.
With Mr. Wonderful, I found someone with whom I could be myself. I never had to worry about putting on makeup, because even though he complimented me when I did, he also liked it when I didn't and told me so. He was the first man in my life who thought my artistic endeavors were admirable and not a waste of time. I never had to pretend to be someone I wasn't, or hide parts of my life that I was embarrassed about. I was encouraged to speak my mind, and to stand up for my opinions even if I was the only one who held that opinion.
With him, I was free to just be me.
The attraction did come later. Some days I get heart flutters when I find him smiling at me (like now). And some days we just watch Netflix at home on a Friday night. There are even days we don't have much to talk about, and that's ok. Because to have someone who loves me as wholly me is a precious gift, and I would be an idiot to throw that away.
When Mr. Wonderful proposed, I knew I was given the choice to continue searching for my idealistic dream man, or to marry my best friend.
I chose the latter.