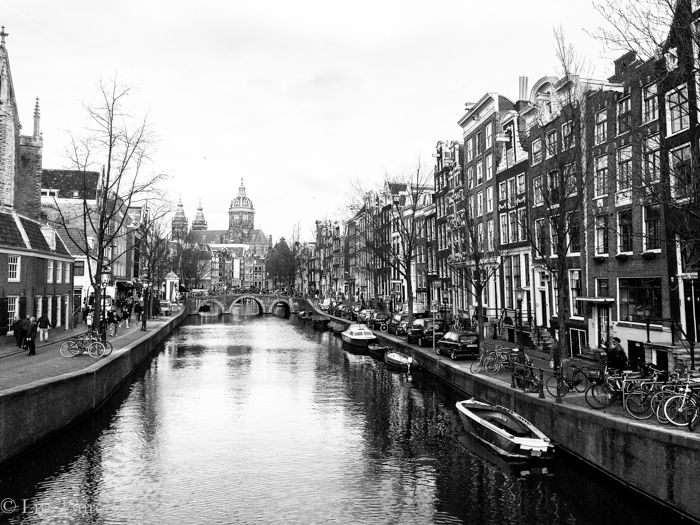 Even when I first started my round-the-world trip, I was looking forward towards the end of my travels, when I would pay a visit to Amsterdam. As someone who appreciates art and fashion, I was long attracted to one of Europe's most design-oriented cities. In addition, it has the highest museum density in the world! From the Anne Frank House and Rijksmuseum to the Museum of Bags & Purses, I could have spent a month just hitting up museums alone.
If you love flowers, April through mid-May is the best time to visit Amsterdam as you will catch the renowned tulips in bloom. And don't forget to be there on a Wednesday to catch a free lunchtime show at Concertgebouw concert hall, which is ranked as having one of the best acoustics in the world.
Below would be my suggested timeline for someone who wants to see the highlights of Amsterdam and its countryside, fit in a few museums and unique shopping, as well as dine at a Michelin star restaurant. This particular itinerary assumes you are visiting Monday-Wednesday during the Spring…if you are not, then adjust accordingly.
Day 1 – Highlights
10am
Start with Sandeman's New Amsterdam tour. It's free. And yes, it's actually a pretty good tour. Despite what its website claims, there is no need to spend three Euros to reserve online – just show up 10 minutes before the tour starts (maybe 15 if you're going during high season) and you'll be accounted for. The tour is three hours long and you will get a great overview of Amsterdam's highlights. Don't forget to wear comfortable walking shoes, and bring some cash to tip the tour guide in the end.
1pm
The tour will end at the Anne Frank house. Walk 7 minutes to the restaurant Pancakes! Amsterdam to taste a local specialty. Dutch pancakes are closer to a thick crepe rather than the doughy, American breakfast food and much tastier in my opinion. On our recent visit, Mr. Wonderful opted for the delicious smoked salmon version.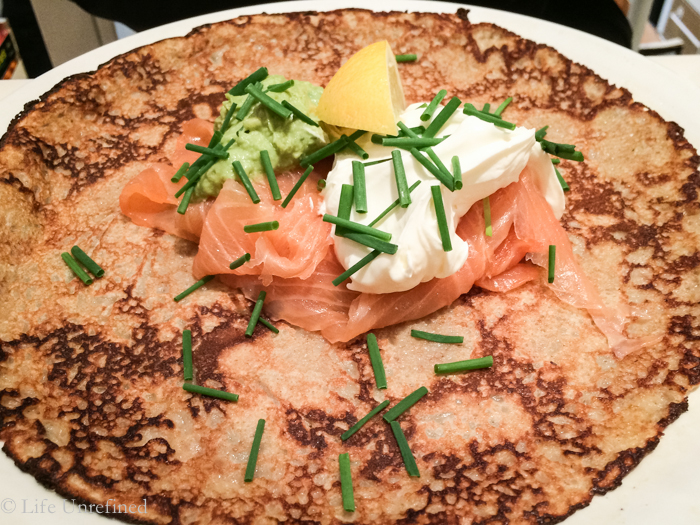 3pm
Wander the streets of the Jordaan district. If you want a unique gift or love looking for antiques, you will find it here. On certain days there are also markets that sell everything from gourmet food to secondhand clothing. I personally loved checking out the home design shops, with Droog and Friday Next being some of my favorites.
5pm
Now is the time to get in line for the Anne Frank house. The wait is usually shorter when it is 1-2 hours before closing time.
7pm
Have a casual dinner at Winkel 43. They serve local brews and are known for their famous Dutch apple "pie," which is a bit different from the American version but equally delicious.
9pm
End your first day with a stroll by the canals at night. Amsterdam is particularly pretty in the evening with all its twinkling lights, and as long as you're street smart, it's quite safe. Or if you're tired from walking all day, you can catch a candlelight canal cruise instead.
Day 2 – Windmills, Flowers and Shopping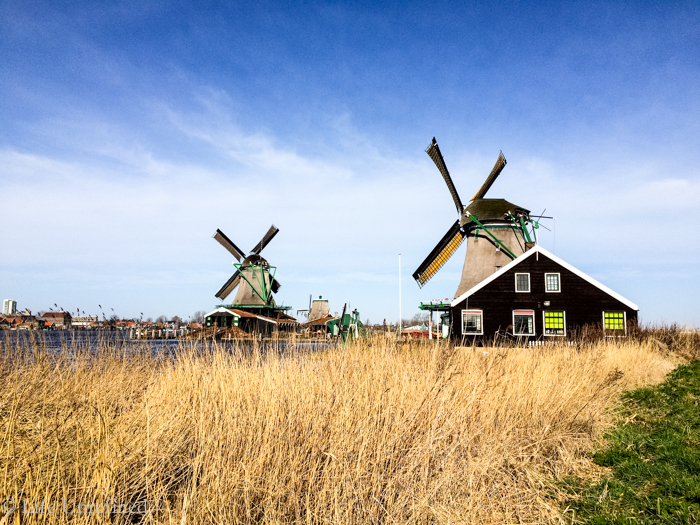 Take a day trip to see the picturesque windmills in Zaanse Schans (year-round) and the blooming tulips at Keukenhof Gardens (April through mid-May). Since they are in opposite directions, it is easiest to book a tour company on Viator that will take you to both, or you can rent a car.
If you are not visiting during the Spring, or only care to visit the windmills, you can easily travel to Zaanse Schans in 17 minutes via the train at Amsterdam Central Station. Just hop off the Koog-Zaandijk station, and walk 15 minutes to where the windmills are located. There are signs to point the way, but if you do get lost, the locals speak perfect English.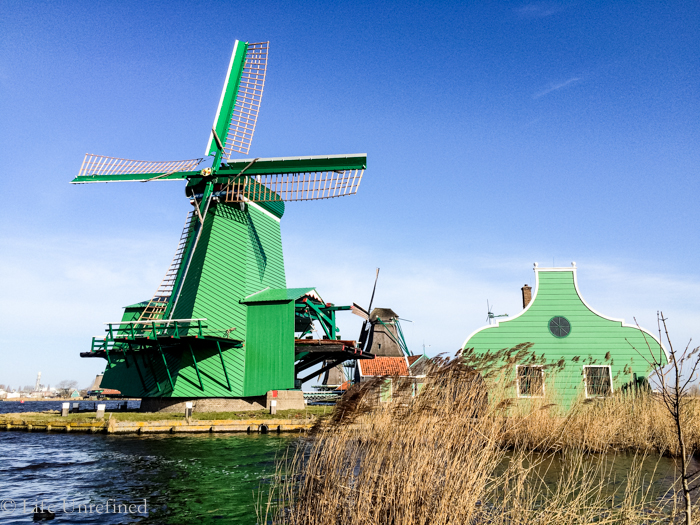 Once you arrive, it is worth taking the time to visit the inside of one of the windmills. Each one makes its own product. We visited the peanut grinding windmill, but walked by others that make paint or cut planks of wood. Also nearby is a cheese factory. Sampling the cheeses make for a nice snack!
A few hours in Zaanse Schans is usually enough, so after a casual lunch in the village, you can head back to the city for some serious shopping! Here are some of my favorite shopping areas and stores:
Kalverstraat and Heiligeweg – These two pedestrian-friendly streets intersect with one another and have go-to European labels (Scotch & Soda, Monki, and & other Stories) mixed with American favorites such as Levi's and The Body Shop.
Pieter Cornelisv – Similar to LA's Rodeo Drive, this street has all the high-end designers such as Chanel, Gucci and Louis Vuitton.
de Bijenkorf (The Beehive) – I'm not going to lie, I visited this department store more than once during my visit and made most of my purchases here. If you are looking for a one-stop shop that contains everything from cosmetics to designer goods, this is the place. In fact, the Louis Vuitton shop inside de Bijenkorf carried more inventory than the stand-alone branch on Pieter Cornelisv.
If you do pay a visit to De Bijenkorf, get an ice cream cone at Banketbakkerij Van der Linde, which is just a 4-minute walk away. There's always a line, and there's only one flavor, but it's worth the wait. The texture of the ice cream is unlike any I have had. Soft and creamy, it tastes more like whipped cream. Or heavenly air.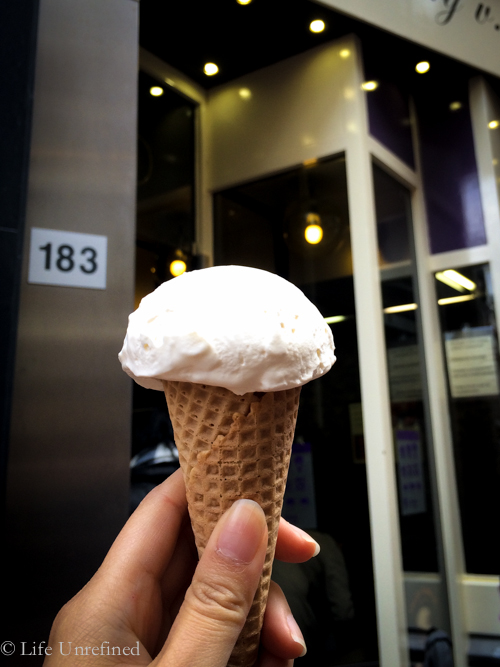 Day 3 – Museums, Music and a Michelin-starred meal
9:30am
If you are a fan of Van Gogh, then the Van Gogh Museum is a must. It takes about 2 hours to fully enjoy the museum, but if you just want to take a quick walk and pause at his more famous works, then you could probably get it done in an hour. There is a museum café in case you get hungry.
12pm
Start lining up for the lunchtime concert at Concertgebouw, which starts at 12:30pm. Contrary to the name, no one was actually eating their lunch during the 30-minute performance when I visited recently, so have a bite beforehand.
1pm
If you're in need of a proper lunch, the café at the Rijksmuseum has good food. Afterwards, spend your afternoon wandering through the numerous exhibits offered at the world-renowned museum, making sure to have a glimpse at The Night Watch (Rembrandt) and The Milkmaid (Vermeer). Save time in the end to shop at its wonderful gift shop. Some of the exhibits have limited tickets, so check the website beforehand to see if there is anything you need to reserve in advance.
5pm
Take a walk through the nearby Vondelpark. The park is 120 acres, so don't expect to see everything! There is a Picasso sculpture and a rose garden, but it is also a great place to relax at one of the park benches and people-watch. With 10 million visitors a year, it's a popular spot for locals and tourists to hang out.
6:30pm
End your visit to Amsterdam by splurging on a Michelin-starred meal at Lastage. The cuisine is French but inspired by local Dutch flavors, so you will enjoy some of the best food that the Netherlands has to offer. Our recent dining experience took nearly four hours, so let the staff know beforehand if you have a time constraint. Reservations are a must. No dress code, which is good news for those of us traveling out of a suitcase!
Have you been to Amsterdam? Do you think I left anything out that is a must-do? Let me know!