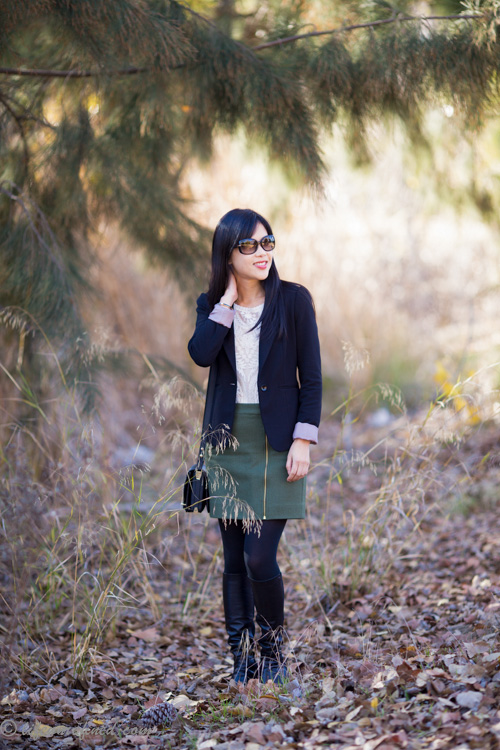 I'll be honest. Sometimes I go to work wearing just jeans and a sweatshirt (an embellished one, of course!) because I'd rather sleep in than figure out how all my layers are going to look cute together topped with arm candy. A lot of the outfits on my blog are usually weekend or date-night outfits, simply because I don't have the capacity to think quickly on a weekday morning.
Over the years, however, I have developed a sort of go-to work uniform. If you don't have one already, hopefully this gives you some ideas on how you can come up with yours!
1) Pick out the top that you feel like wearing. I'm all about getting dressed based on my current emotions, or what I'd like my emotions to be. For example, when I'm feeling under the weather, I might gravitate towards an all-black uniform because it reflects my mood, or a sunny yellow because I want to feel more positive. It actually works! If I'm feeling glam, I'll choose something that has some subtle rhinestones or beading.
2) Select a skirt or a pair of pants that complements your top. Two easy rules:
Either your bottom OR top should be colored. The other should be neutral (black, gray, white/beige, brown). In these photos, I paired my olive green skirt with an ivory top.
Either your bottom OR top should be embellished or textured. I have a lacy top on, so my skirt is just a solid wool.
3) Top it all off with a black cardigan or blazer. A cropped black jacket works, too. These basics literally go with everything. You need something that will keep you comfortable on a chilly morning but can be shed on a warm afternoon. A cardigan is appropriate for a more casual work environment while a blazer looks sharp for corporate settings or interviews. Me? I'm somewhere in between. I'm often seen wearing cotton/rayon blazers. Or a cropped tweed jacket.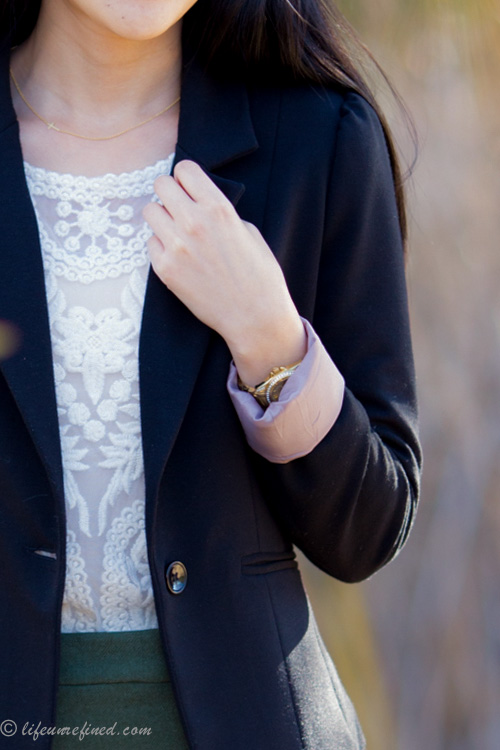 How do you get dressed for work? What is your go-to office uniform?
Knit blazer (similar), Express lace top (similar), J.Crew wool skirt, Stuart Weitzman boots, Loeffler Randall bag, Michael Kors watch