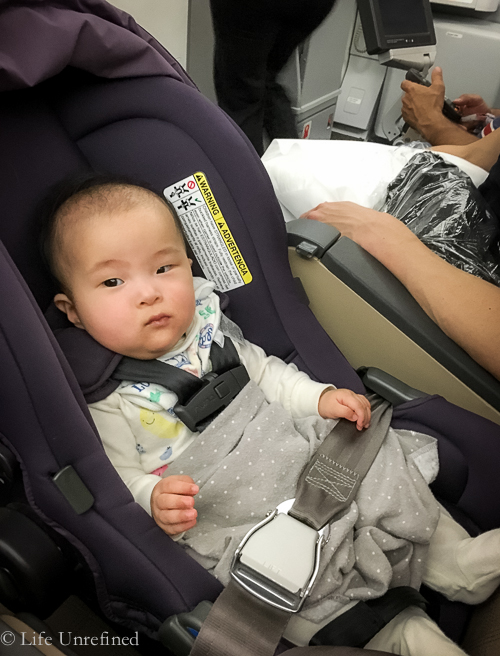 I'm just as nervous as you, honey.
When Mr. Wonderful first suggested we spend the rest of his paternity leave going to Europe, I thought he was out of his mind. Little V was only 2 months old at the time, and the idea of hauling my sleep-deprived, half-crazed self with a baby in tow just seemed insane. I could barely get through the day by day, and he wanted to travel?!
"Fine," he said. "You're no fun."
Sigh. Apparently giving birth to a baby also turned me into a party-pooping old grouch.
So I relented, though in the weeks and days leading up to the trip I was half-hoping that a minor catastrophe would happen. Just bad enough where Mr. Wonderful would have to admit cancelling the trip would be for the best, but of course not so bad that anybody got permanently hurt. I did end up with a foot injury which can be relieved with CBD Oil, and Little V did pick up an ear infection (we went to urgent care two days before the trip), but Mr. Wonderful cheerily carried on with his packing. So off we went. And here are some things I learned:
Hotel vs apartment. With a baby, it seemed like renting an apartment (with an elevator! And a washing machine!) would be a no-brainer. But after staying at three different hotels and three different apartments, we learned that a couple of overnights at a familiar hotel chain is nice when you first land in a new country. After an exhausting flight, all you want to do is check-in and rest. In addition, they have more at stake when it comes to your baby's safety and will generally provide a safe crib/pack n play for your child to sleep. We rented one apartment from a man who obviously did not have kids of his own, and though he offered to provide a crib, it looked questionable in terms of safety.
After you've recovered from jet lag though, renting a larger apartment is definitely more comfortable. And don't forget the washing machine. There's just as much baby laundry to do while traveling as you did at home! If you live in an apartment that doesn't come with fixed appliances installed, this guide explains the best solution.
Stay for at least 2 weeks. We read that most babies recover from jet lag in a couple of days, but it took Little V (and therefore us) about five. Mr. Wonderful and I both agreed it definitely would not have been worth it to suffer through jet lag only to pack our bags again and head home.
Try to stay in one place. Having a child does slow you down. Gone are the times when you can walk ten miles and squeeze in ten tourist sites a day. There's no such thing as "grabbing a quick lunch." Thus staying in one place meant we could take our time visiting the local attractions and not feel pressured about doing everything at once. Little V also seemed to fare better when we weren't rushing from one city to another.
Train vs car (keep it short). Though many parents told us that renting a car was the way to go, I'm not entirely convinced that's true. We did both, and there are pros and cons to each. When Little V got fussy on the train, at least we could take her out, bounce her, and distract her with outdoor scenery. Also, both parents could take shifts. With a car, we could stop whenever we wanted to (and it was nice not to drag our luggage from A to B), but after a long ride Little V would become inconsolable. Mr. Wonderful ended up speeding to our next destination, while I resorted to entertaining our seven-month old with my iPhone. In the end, Mr. Wonderful and I agreed that our car rides should be limited to a total of 3-4 hours a day.
It's not so bad after all. If you're feeling apprehensive about traveling abroad with a baby, don't! In fact, with your expectations in check, it can be a wonderful experience. I ended up being glad we went. With Little V, strangers would stop to coo and talk to us. We had many more conversations with people than we did when it had been just the two of us. It was a very different type of traveling than when Mr. Wonderful and I traveled around the world, but an enriching one nonetheless. Most importantly, we made new memories together as a family (which is the point of paternity leave, anyway!).
Have you traveled with a baby before? Would you do it again? What were some of the things you learned?