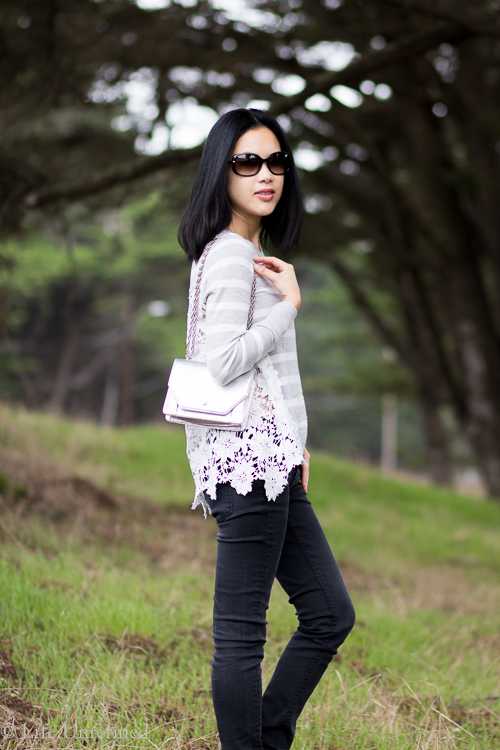 Pre-baby, there were two types of sweaters in my closet – cashmere and embellished. Wool had always made me itch, so growing up I kept warm in the winter by layering a gigantic sweatshirt over a couple of long-sleeve tees. (Obviously, this did not make me date worthy for quite a long time). When I finally discovered cashmere, I started stocking up on the precious sweaters during after-Christmas sales. J.Crew makes some of my favorites, especially with their gorgeous colors.
Now that I have a baby, spit-up is a common occurrence, and I did not want to start racking up unnecessary dry-cleaning costs. I've tried hand-washing a couple of cashmere sweaters in the past, and knew that was a mistake (the fine material becomes fuzzy and worn looking).
As for my embellished pieces…well let's just say that Little V does not enjoy rubbing her face on rhinestones.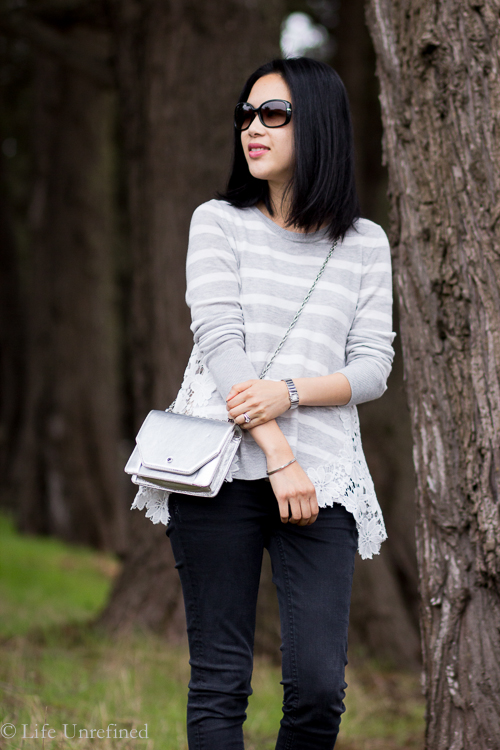 I recently spied this gray and white striped sweater on Nordstrom's website, and it was some of my favorite things all in one – neutrals, stripes, lace. Plus it was a non-wool sweater that could be tossed in the wash! With a hint of cashmere! Sold.
The sweater arrived last week, and I think I've already worn it three or four times (maybe more, but I don't want to gross you out). I love that it's a swing style without looking maternity – especially nice for those of us with a little belly pooch!
In other news, a lot of retailers seem to be slashing their prices early, so don't miss out! Gap and Banana Republic have been running some great sales, and I picked up this silver crossbody bag (40% off with code BRBUNDLE). I've been hunting for an affordable one for a few years now, and though I'm wary of the soft leather (it seems easily scratchable), it comes pretty close to what I had in mind. You can even style it in two ways – crossbody or over-the-shoulder. I like that it spices up a casual outfit, but will go nicely for those upcoming holiday parties as well.
What are your favorite ways to stay warm?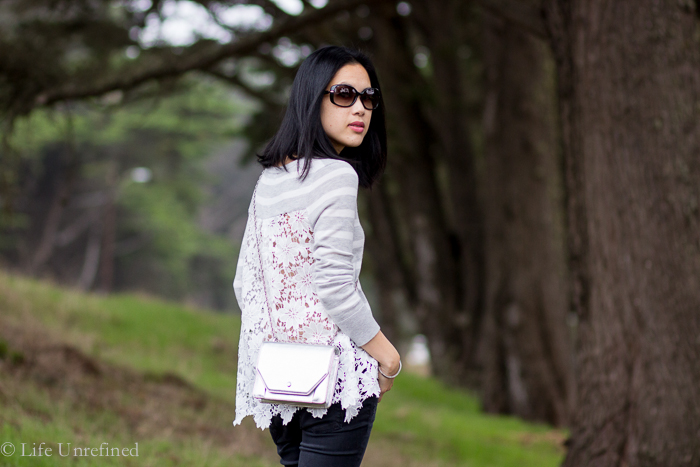 Chelsea28 Lace Back Sweater, Vigoss skinny jeans (similar), Banana Republic crossbody bag