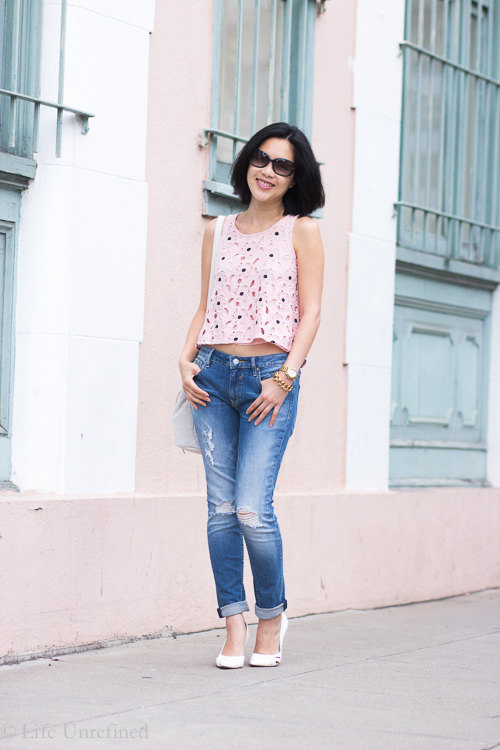 Mr. Wonderful and I actually got out for a second date post-baby today. Is it strange to say that half of my excitement for our lunch was an excuse to dress up a little? I was looking forward to wearing the Begonia Lace Tank I had recently ordered online from Ann Taylor.
I'm not typically a crop top type person (I haven't had a flat stomach since high school), but it goes well with skirts if you're not into tucking in blouses and want a bit of shape. I originally ordered the lace top to go with a high-waisted black silk skirt I own, but since we were eating at a low-key Thai restaurant for our date, I didn't want to be overdressed.
Instead, I decided to be brave and wear it with a new pair of Vigoss distressed denim. Though I've quickly lost most of the baby weight in the first two months, the remainder has stubbornly sat on my hips and waist, refusing to budge. I haven't been able to wear any of my old blue jeans yet, and have relented to the fact it may be awhile, if ever, before I can wear them again. After trying on perhaps nearly 20 pairs at Nordstrom, the 'Thompson Tomboy' style by Vigoss felt the most comfortable and flattering for my new body.
"You look great," Mr. Wonderful must have said about five times on the way to lunch with a big grin on his face. I suppose when your husband is used to seeing you in flannel pajamas, some fitted jeans never hurt!
Have you purchased a new pair of jeans lately? Let me know your recommendations!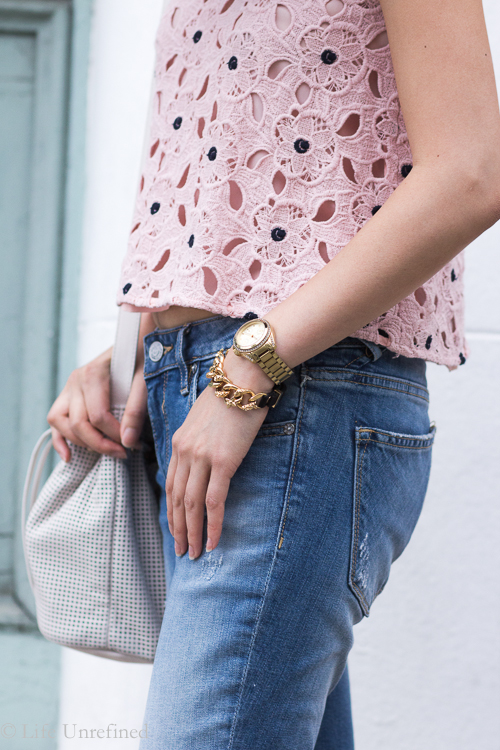 Ann Taylor Begonia Lace Tank (currently 50% off!), Vigoss 'Thompson Tomboy' boyfriend jeans, & Other Stories white perforated bucket bag (similar by J.Crew)