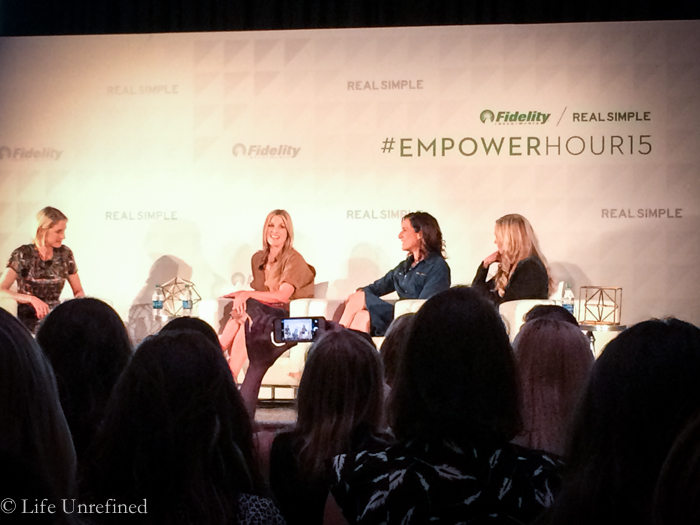 Real Simple and Fidelity hosted the "Women in Success" event in San Francisco this week, and I had the privilege of being asked to cover the evening's festivities on my blog. I was so excited that some pretty amazing women would be speaking, including actress Ali Larter!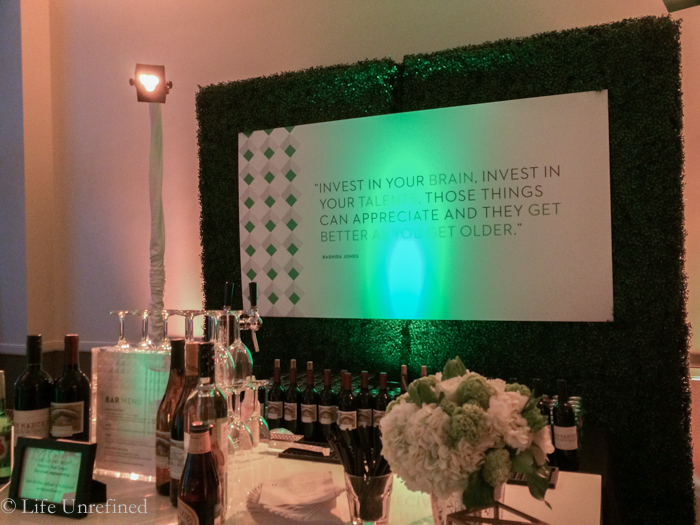 The event was held at the stately Bently Reserve, which is a popular venue for elegant weddings and galas. With the rows of Chiavari chairs and beautiful floral arrangements, I felt like an honored guest. After grabbing a drink from the bar, I found a seat next to…a man. I think his significant other (sitting on the other side of him) dragged him in. Or maybe he was there for the food.
Kathy Murphy, the president of Fidelity Personal Investing, opened the night by sharing some sobering statistics about women. Did you know…
66% of 4th grade girls like science and math, but only 18% of all college engineering majors are female?
60% of 4th grade girls feel "happy the way I am" but only 29% of young women do?
And while most women are better at saving money than men, and nearly 50% are the primary breadwinners, wives tend to leave the household investments to their husbands.
What's worse is knowing that I, too, fall in that category. I let Mr. Wonderful handle a majority of the investing. My mind simply shuts off when he starts talking about IRAs (what does that stand for again?) and index funds. It's confusing. I hate numbers (and acronyms). After all, he'll always be around to help me…right? Apparently most wives don't start learning about investing until they get a divorce, or their husband passes away. It was food for thought.
I was inspired by the panel of women who shared that night – Ali Larter (actress from Heroes), Janet Hayes (President of Williams-Sonoma) and Christine Bronstein (founder of A Band of Women). Not only are they all businesswomen, but they are moms and wives, too. Here are some of the best quotes of the evening (some are paraphrased…I couldn't type fast enough!):
What is success to you?
"Finding joy in both your work and spending time with family…while still having kindness and grace." –Ali Larter
"Success is finding that inner peace within yourself." –Christine Bronstein
"I never thought about success…I just wanted to do a good job." –Janet Hayes
Why did it take until your 30s to figure out stuff?
"By the time you're 30 you have just enough life experience to really start to trust yourself. We all have good intuition – you just have to use it." –Janet Hayes
"It takes all your mistakes in your 20s to realize this is what I want, this is who I am." –Ali Larter
How do you balance putting yourself first and putting your kids first?
"Find things you enjoy with your kids." –Christine Bronstein
"Find your moments, whether it is 5 minutes or the 45-minute commute home." -Janet Hayes
How do you keep and build your relationships while maintaining your success?
"Choose wisely. There's not a place in my life where I feel like I have to edit myself. Life is too short and our lives are too busy." –Ali Larter
"Finding common touch points with other women." –Christine Bronstein
"When you can find a company whose value matches yours, then all that competition disappears." –Janet Hayes
The evening wrapped up with an open bar and a selection of gourmet hors d'oeuvres. Unfortunately, releasing a bunch of hungry women to fight for a few skewers was a battlefield I was not ready for. I did manage to score a delicious bite of steak and potato, and a piece of toast, which sustained me until I got home and had a proper meal.
I also received a generous gift bag from the event, which I will be passing on to one lucky reader. With over $100 worth of goodies (including the book Nothing but the Truth so Help me God, $25 for shoes.com and a chic leather card case from J.Crew), you don't want to pass it up!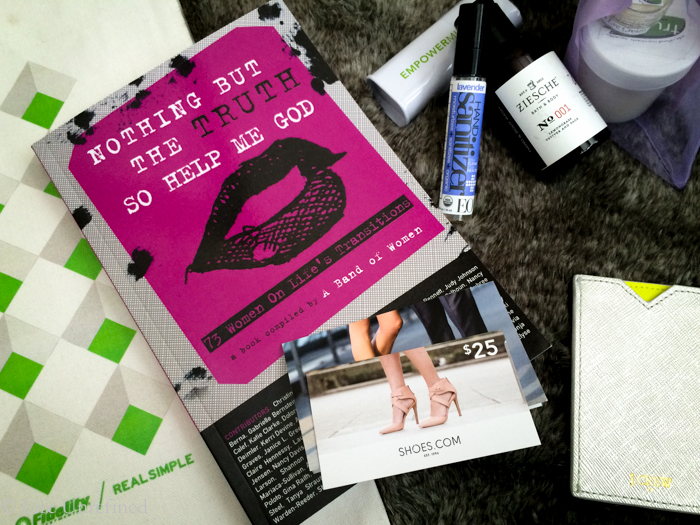 What does success mean to you?
a Rafflecopter giveaway