Mercedes-Benz Fashion Week in Panama? Who knew? When I first heard about it a month ago, I inquired the coordinators for a possible invite. Instead, I was offered a press pass. Wait, me? As I'm writing this, I'm standing next to a photographer with a camera lens three times the length of mine.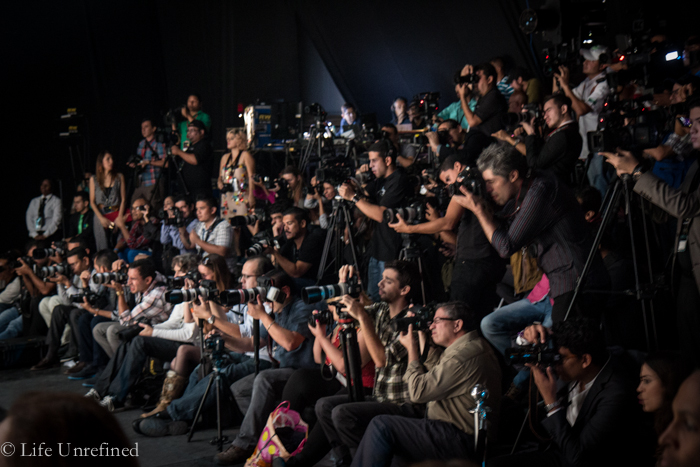 No joke. I'm still pinching myself that this is all real!
The event is for three days, with the runway shows from 5:30pm – 9:30pm. My first thought when I got the schedule was, wait, what about dinner?! Will there be food? Or is everyone expected to starve since it's the fashion industry? To be safe, I had a hearty lunch of fried chicken and a chocolate cookie beforehand. No dieting for this girl!
I did, however, buy a last-minute outfit from Forever 21 and a pair of kitten heels from Zara. I had to explain to Mr. Wonderful why the travel clothes in my suitcase just weren't going to cut it.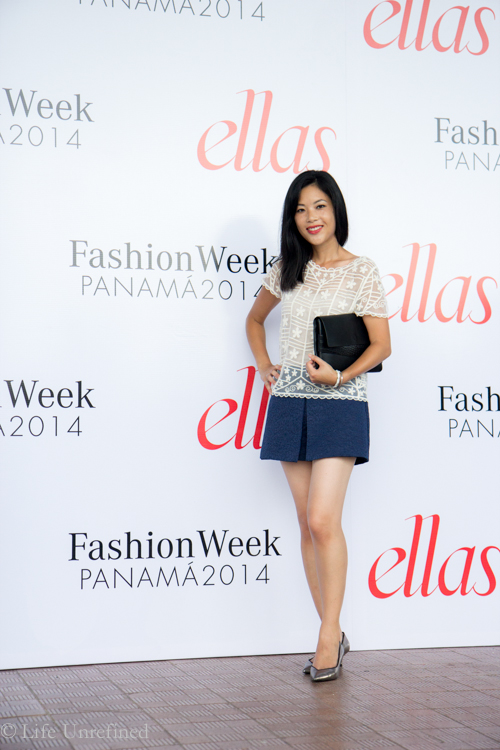 This is my first time attending a fashion week of any sort, so I can't compare the vibe to the ones in other countries. My experience at Panama Fashion Week, though, was just so much fun. You can tell everyone just wants to have a good time. And isn't that what it's about?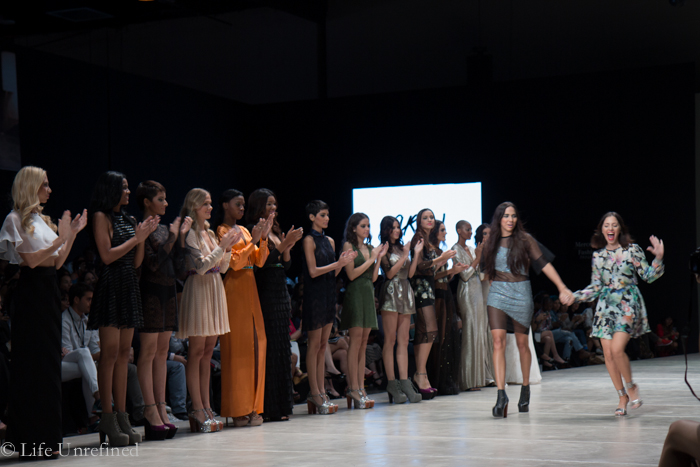 Look at that smile on designer Alessandra Grau's face!
Highlights from Day 1: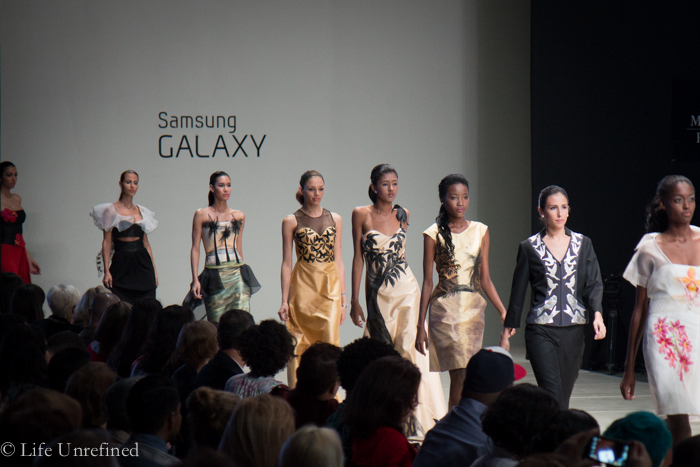 I appreciated that this designer, Helene Breebaart, was uniquely inspired by Panama's tropical environment and incorporated it into her designs. Apparently, she used to work for Christian Dior 30 years ago and is one of the original pioneers for the Panama fashion scene.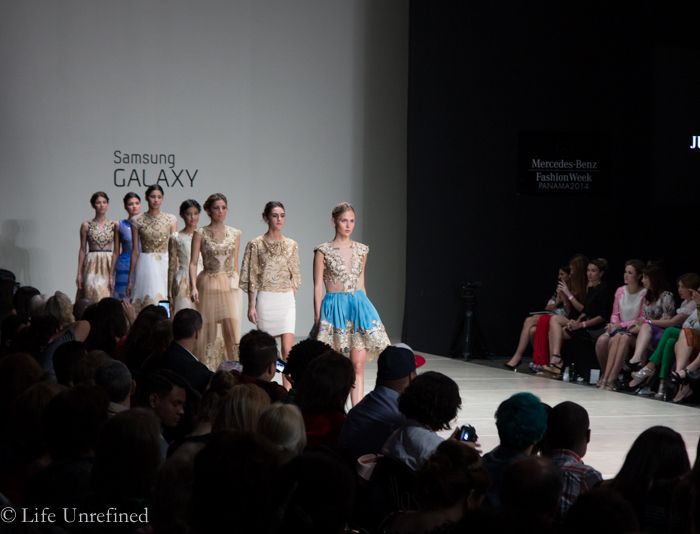 Juan David Velez. The lavish Baroque style lace is just gorgeous.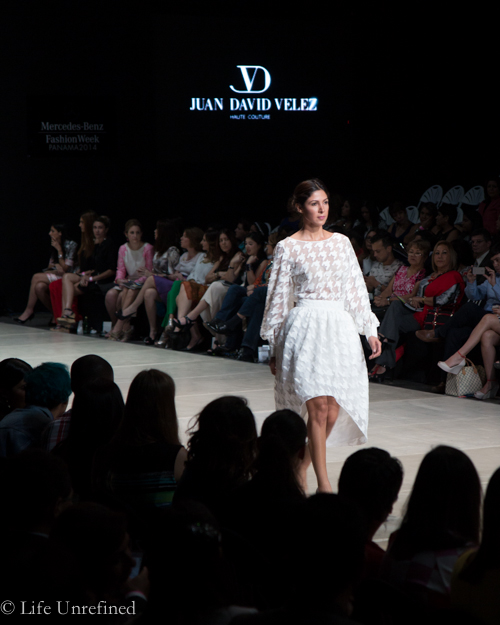 Love this fresh interpretation of classic houndstooth.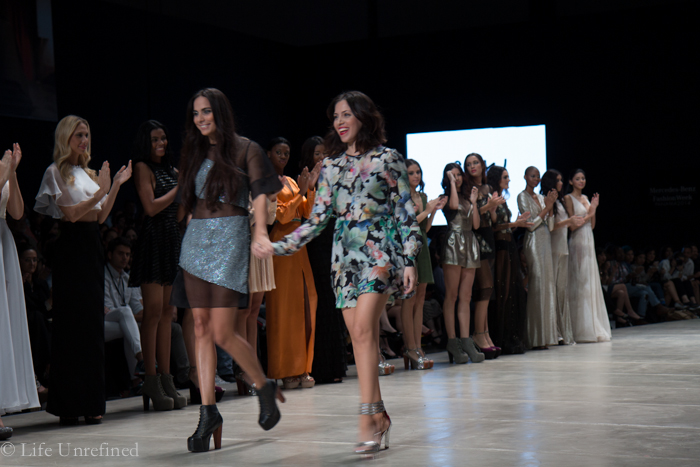 Out of Alessandra Grau's entire collection, the piece I liked best was the dress she wore. I wonder if she made it. Which got me wondering, do designers actually wear what they make?
My favorite pieces of the evening though, were the ones below by Lidia Minota. The first dress would be perfect for a beachside wedding. And I would totally wear the two-piece design below. It's a little hard to see, but the blue trumpet skirt has some exquisite beading and fringe.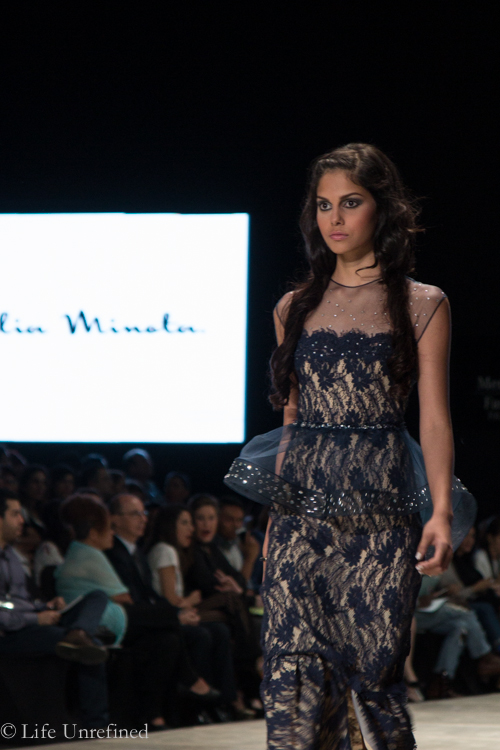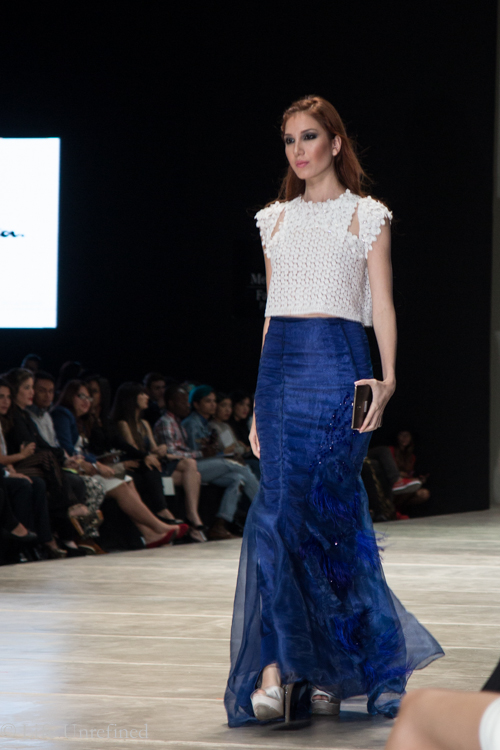 Such artistry and craftsmanship.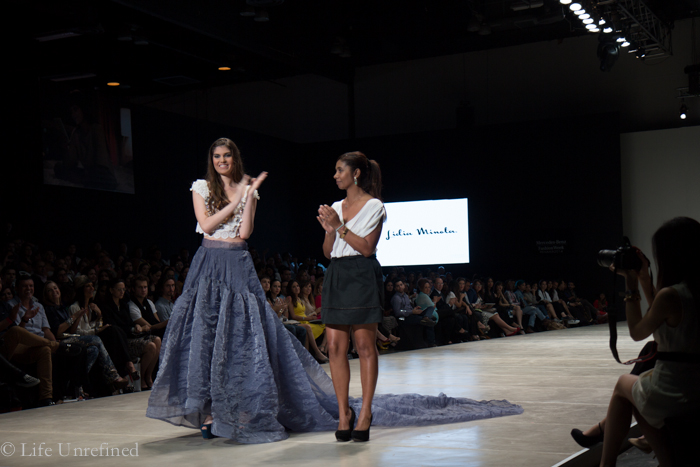 Designer Lidia Minota with one of her models. Look at the train of that skirt!
Stay tuned for Days 2 and 3!