A friend (and mother) recently shared her dilemma in finding dresses that are both wedding appropriate and nursing friendly, so I promised I would spend some time hunting for several possibilities that she could consider.
Surprisingly, I came up empty-handed on Nordstrom's website. A nursing-friendly dress usually has one of the following details:
1) A button-up top.
2) A zipper top.
3) Off-the-shoulder (maybe). Not all off-the-shoulder pieces work, but usually the ones with elastic will allow you to pull down a shoulder so you can feed your baby. It's a little more annoying than the above options but it works. Plus, this is a popular style right now!
3) Wrap/crossover/surplice top (maybe). Similar to above, this design depends a lot on the material. Stretchy jersey with spandex will usually allow you to pull down one shoulder so you can nurse easily. Silk and stiff polyester will not. In addition, some brands will stitch together the point of fabric intersection (to prevent a possible peep show I guess?), and it's often hard to see that detail when ordering online. The only way to know for sure is to try on the dress first.
And of course, there are dresses that are designed to be maternity/nursing friendly, like this one by Ingrid & Isabel. But since those tend to be more expensive and basic in style, my goal was to find regular dresses that happen to have the desired features.
I was running an errand recently when the store window of Banana Republic caught my eye. After a quick perusal inside, I was surprised to find a handful of dresses that fit the bill! I tried on two of the styles to share: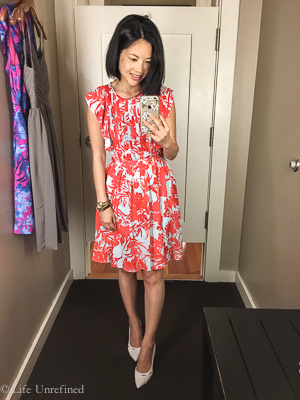 Floral Flutter-Sleeve Dress, 0P in Candy Teal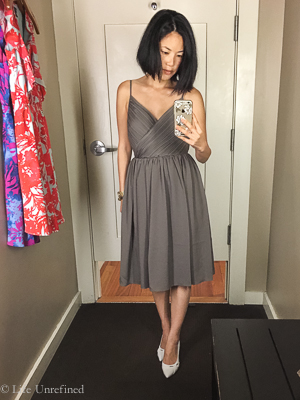 Strappy Crossover Vee Dress, 0P in Pacific Taupe
Though I tried on both in petite sizes, I preferred the fit and shorter hem of the floral dress. However, the gray one is definitely more versatile and timeless. I also thought the hidden hook and eye was genius: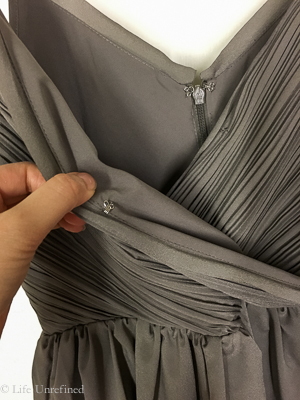 Not only does it prevent accidental embarrassment, but it gives you the flexibility to nurse, too! The more conservative Keyhole Flutter-Sleeve Dress (fits similarly to the floral dress above) has the same idea with the tiny gold button on top.
For Memorial Day, you can take 40% off your entire purchase at BR (code BRTAKE40)! Exclusions apply, but not to these dresses. I noticed the floral one is already running out of stock in several sizes, so I wouldn't recommend waiting too long for that one.
Moms – are there any nursing-friendly dresses you have seen recently that you recommend?