I have a love-hate relationship with hats. I love trying them on, and I love the idea that a hat can instantly add some effortless style to your whole outfit.
But wearing a hat also adds to my insecurity. Does it fit right? Is it angled right? Am I pulling this off? In high school, I once wore my mom's gray felt hat to class. I thought I looked great, until one of my closest friends pulled me aside and asked if I was ok. I was confused. Why wouldn't I be ok?
"Well, you look ill. Like maybe you have a terminal disease."
I kept the hat on for the rest of the day (I figured hat hair was worse), but I never borrowed it from my mom again.
Then there was a baby blue bucket hat I bought from Gap. I thought it was cute. Maybe it was too cute, because people kept asking me if I was 12, when I was 18.
So I stayed away from hats for many years, except the rare occasion I wear Mr. Wonderful's college cap when I'm playing sports out in the sun. Sometimes you just don't care.
And then last year, I spent three months living in Panama. Though authentic Panama hats are technically made in Ecuador, streets are lined with hat shops selling Panama hats of all shapes and sizes (and prices). I got it into my head that maybe, just maybe, I could channel Miranda Kerr and Taylor Swift. So after many weeks I decided to buy one. The store owner helped me select the right size.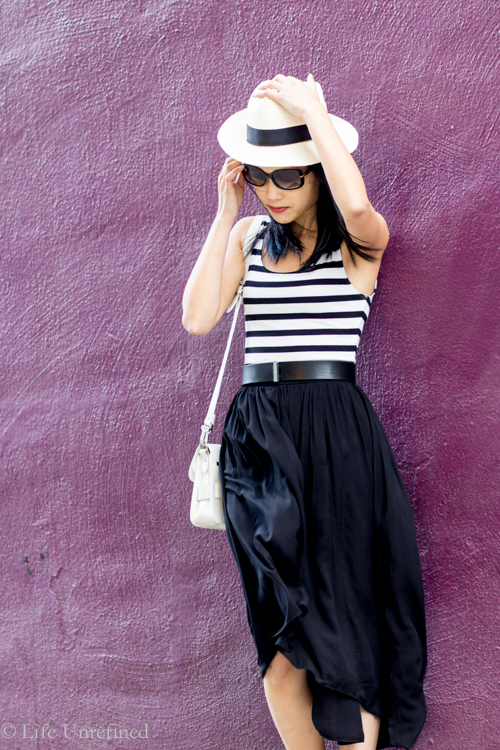 A week later, I wore my hat on a boat ride when a gust of wind blew it off my head and landed in the ocean (another reason I hate hats!). The tour guide fished out the sopping hat for me, but I felt deflated. Even when it dried, the hat was now misshapen and I don't love it anymore. I can't figure out if I should bother with a replacement, or take it as a sign that I just wasn't meant to wear hats.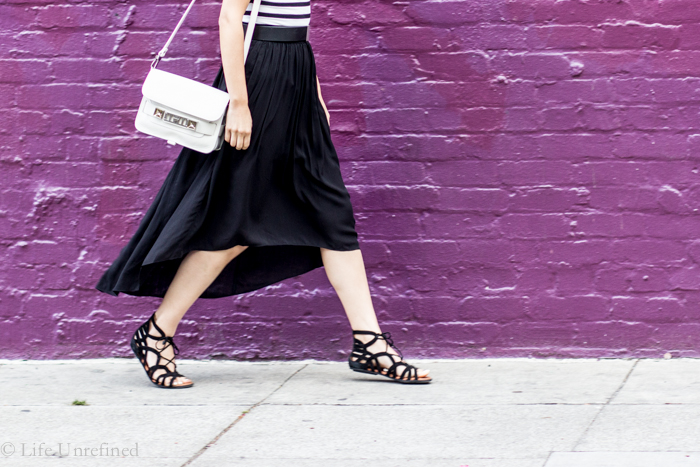 Express Striped Top (it's actually a peplum!), Aritzia skirt, Ann Taylor belt, Gentle Souls 'Break My Heart' sandals
Do you wear hats? What is your opinion about them?