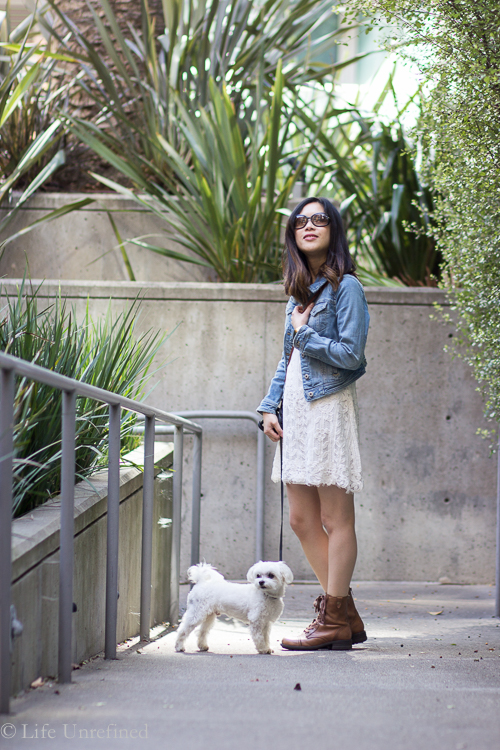 I have never been much of a Bohemian girl, but the flowy shift dress (some call it a swing or trapeze dress) became my friend when I was pregnant with Little V. Stylish yet comfortable, they're easy to pair with everything from sandals to boots. Plus they cover your stomach whether you're pregnant or full from a big dinner (a constant problem). I've been wearing this old Urban Outfitters piece on repeat the last three years, and figured it was time for an update. I loved the idea of a feminine lacy white dress in contrast with my go-to brown boot, so I've been on the hunt for such a piece.
The key to the swing dress is that it should be properly fitted in the shoulders and arms to prevent a baggy, frumpy look. And to balance the loose silhouette, it's best to find one that ends above the knee. For those who hate their legs, you can still wear this style by adding on leggings and tall boots (though it would then be more appropriate for the fall season).
I ordered a few cheaper options from ASOS (the Broderie Trapeze dress and the Tiered Trapeze Mini) before landing on this Speechless piece from Nordstrom (the same one is also at Target for $15 less! Grr). The ones from ASOS all ran large overall, which made me feel like I was wearing a large lace bag. Although I'm not totally in love with the Speechless one (the lace looks a bit cheap to me), it does fit well and I have already worn it many times. My favorite combination is with a light blue denim jacket, but I have also paired it with this green cargo jacket and a gray cardigan. When the weather warms up, you can't beat the ease of throwing on a dress and shoes.
As a side note, I also tried on this white eyelet dress from J.Crew. It's cut very strangely – The "waist" of the dress sat uncomfortably on the widest part of my rib cage and I have a short torso to begin with. Other online reviewers seem to agree. I'm not sure who this would fit!
Do you have a little white dress? What is your go-to outfit for the spring/summer season?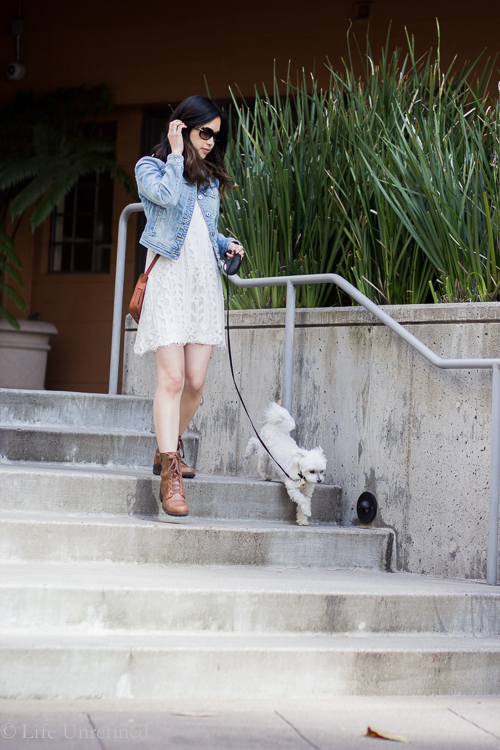 Speechless Lace Shift dress | Pilcro Denim Jacket (new version) | Madewell Simple Crossbody Bag (black on sale here) | Rockport Cobb Hill Bethany boots