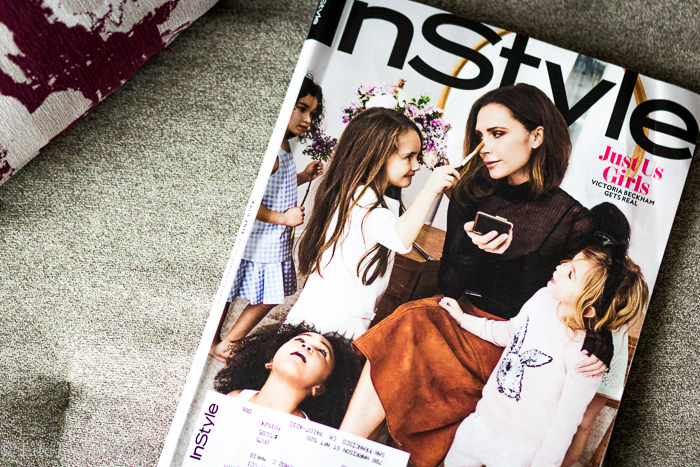 I always look forward to the latest issue of InStyle arriving in the mail, and this month was no different. As a new mom, I thought it was sweet that a circle of little girls graced the cover with the elegant Victoria Beckham. Her collaboration with Target will be launching in a couple of weeks, so I eagerly turned to page 180 in anticipation of learning more.
As I looked through the photo spread and studied the girls' clothing (mentally listing the ones I wanted to buy for Little V), I suddenly noticed part of a little Asian girl's face on the bottom right side of page 182. Oh that's nice they're being inclusive, I thought, until I looked for her in other photos of the spread. In one photo (page 181) you could see the girl's right eyebrow and forehead. In another you see her right cheek (page 182). Yet another had part of her back, hair, and legs (page 183). Except for the first shot I noticed, she was practically invisible. If you had photoshopped a blank space over her in all those pictures, it would hardly make a difference. Her presence didn't matter.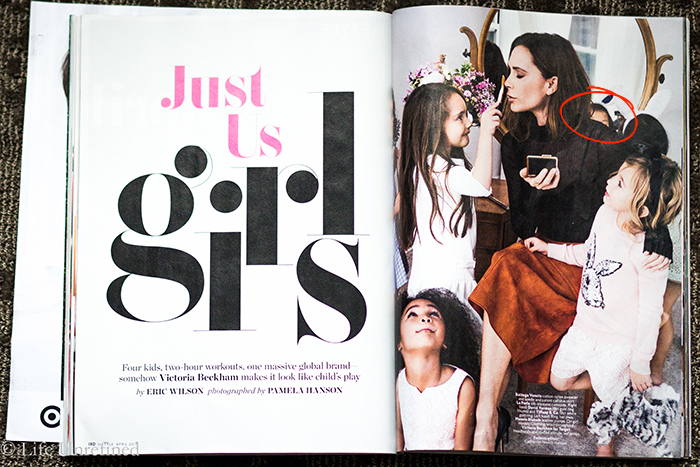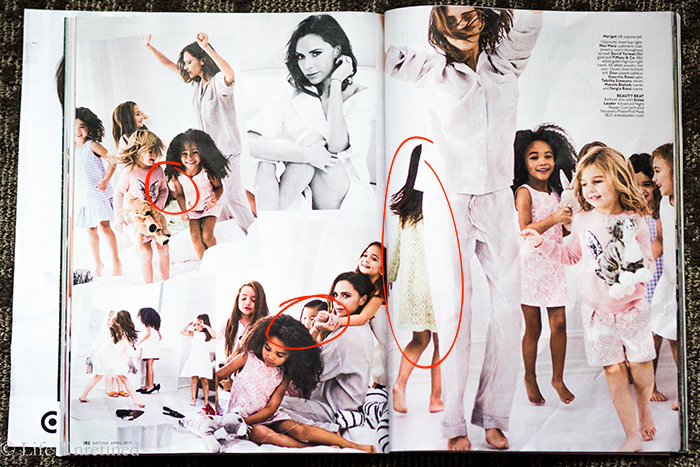 What happened next took me by surprise. I felt outraged. I felt hurt. I felt shamed. I was in disbelief. It was a magazine photo shoot, but it felt personal. While it may have been unintentional on the photographer's part, these pictures perpetuated the stereotype I had often felt growing up – be quiet, stay in the back, don't let anyone notice you. While all the other girls had at least one shot where they were clearly front and center, this little Asian girl was always in the back, or not in the picture at all.
Why? And who is responsible? Should it be the photographer's responsibility to be more inclusive? Should he have coaxed the little girl into letting her shine? Should it have been the editorial staff to make sure there was at least one photo where she was fully represented? Even if you make the argument that this little girl was shy, then shouldn't they have made a better effort in finding a more rambunctious Asian girl model?
Because not all Asians are meek and reserved. Not all of us stand in the background, content with whatever is given to us.
I resented it then, but appreciate now how my Dad used to push me in the front whenever we were in a large group of any kind, whether it be a museum or visiting some tourist site in a foreign country. "Ask questions," he insisted, "get their attention." I retorted that he should ask the questions himself, not understanding he could see into my future. That if I didn't speak up, I would disappear and nobody would notice. We are a race that has quietly excelled in many areas, but when it comes to media and the public spotlight, we are underrepresented. The first and last time an "Asian" was nominated for Best Actress was in 1935. And Merle Oberon clearly looked more white than Indian.
And yet, while we can (and should) hold photographers and national magazines responsible for their ignorance, I realize that I, too, am also partly to blame. I think back to the many times I was mocked and humiliated as a kid and an adult, and how I just stood there, saying nothing. How can I let my own daughter know that she deserves just as much "face time" as any other girl regardless of race or ethnicity, that she is just as beautiful and worthy, if I don't start by standing up for myself?
We have a voice. Let's use it.