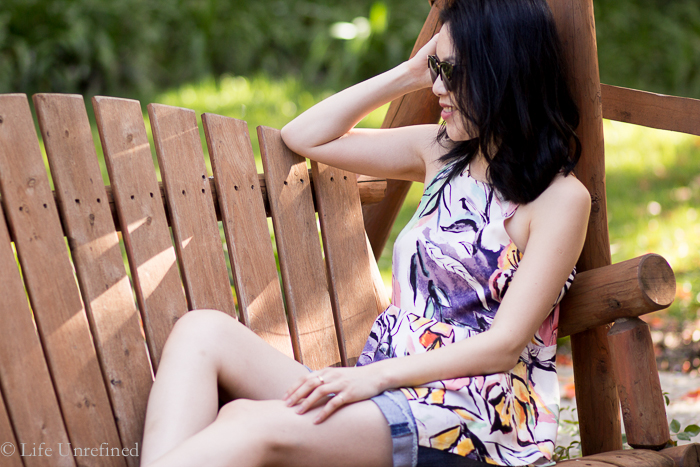 It actually hit the 80s this week! For those of us living in San Francisco, it means it's time to hit the beach. There are only a few weeks in the year (sometimes none) when we get to pull out shorts, so I relish every opportunity to do so. As I've gotten older (or old), I've started appreciating longer hem shorts, as your legs don't burn in the hot leather of the car and it works well with longer tops like this one.
I rarely make purchases at Anthropologie anymore, especially after I got banned from their online site, but every so often I do stop in when I'm at the mall. This modern floral number called me from the sales rack recently, and after trying on both the 0P and 0R (with no noticeable difference except for the hem), I decided to go for the longer length. Being 5'2" has its disadvantages, as petite sizes sometimes run too short, with the regular sizes still being too long. The armholes were rather big, but unfortunately 00 was not an option at that location.
In other news, I've been lamenting the suffering of brick and mortar stores recently. Retail stores are closing at a record rate, with predictions that the number will surpass that of 2008. It's got me thinking – if I got punished by Anthropologie for returning half of my online purchases (which I still don't think is unreasonable, considering how you can't feel the fabric beforehand and colors can vary on the computer screen), will other retailers become more relaxed in their return policies as they focus strictly on e-commerce? Only time will tell.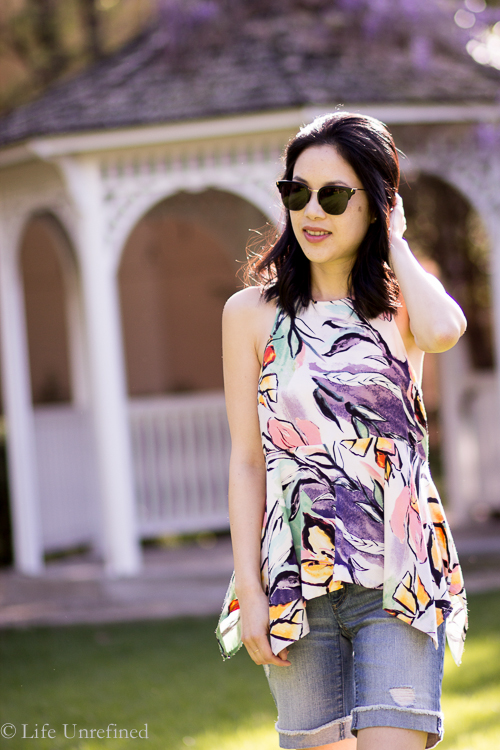 HD in Paris Lucille blouse, LOFT bermuda shorts (similar)
What do you think of the closure of retail stores? Do you strictly shop online anyway?