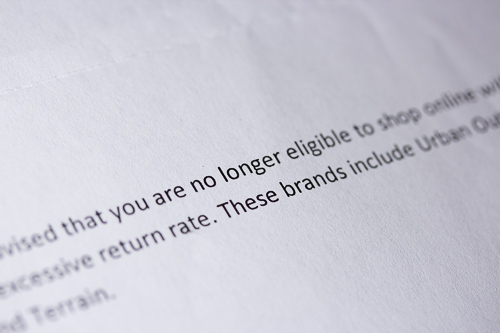 Recently, I received a letter from the finance coordinator at URBN (the brand that includes Urban Outfitters, Anthropologie and Free People) that I am "no longer eligible to shop online" at any of their stores.
In all honesty, I was a bit shocked to receive the letter. I've never been banned from anything before. Growing up, I was the "good girl" that followed rules and respected others. In addition, as much as I love Anthropologie, I shop far less there than I do at J.Crew, Banana Republic, and Ann Taylor. The reason? Because I'm primarily an online shopper and those stores regularly offer free shipping/returns and Anthropologie does not. In fact, Anthropologie is probably the only online fashion retailer I have ever willingly paid for shipping.
Why do I shop online? Because many retailers (including Anthropologie), usually only offer its smallest petite sizes on their website. And as fellow petite shoppers know, it's a chore to find something that fits and isn't from Forever 21 or the teen department at Macy's. I have been told that the only time "00 Petite" is in stores is when it's someone's online return (with the exception of certain flagship stores in major cities).
After I received the letter, I looked into all the Anthropologie orders I made in the last year. In 2013, I made 8 online purchases with a total of 29 items (an average of 3 or 4 items per order). I've kept 6 of those items, which means I keep a little over 20% of my purchases. I know that's less than ideal, but I don't think it's unreasonable, either. Consider the factors:
1) What is the quality like? I always read the material content on an item listing before I even put it in my virtual shopping cart. But the downside of online shopping is you don't know how something feels until it arrives at your door.
2) Is it true to color? How many times has something seemed bright pink on the website only to be a subdued hue in real life (or vice versa)?
3) How is the fit? If you think about how many pairs of pants or dresses you need to try on before you find one that fits and looks good, then you know that keeping at least one out of five is actually a pretty decent ratio.
With that being said, the thing affecting me the most is not that I can't shop online at Anthropologie anymore (although I still have a bunch of gift cards I'm not sure what to do with) but it's the fact I feel like I have a blemished record. I know it sounds silly, and perhaps deserved, but nevertheless I don't like the idea that in some random database somewhere, my name is now blacklisted.
But, readers, I am curious to know what you think. In your opinion, what is a reasonable "return ratio" for online orders? Have you ever been blacklisted?