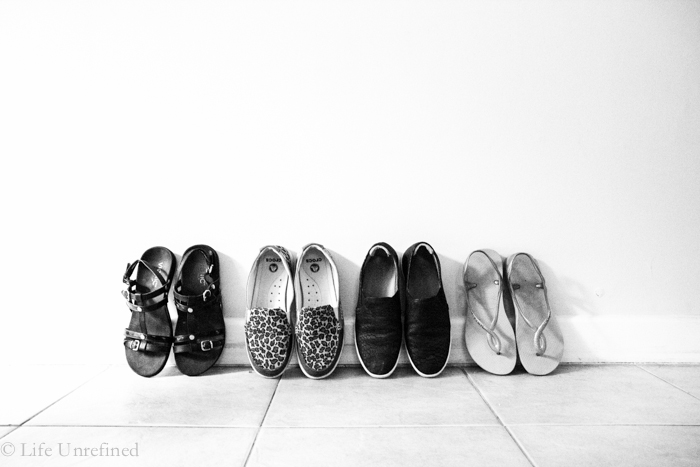 Since I started traveling, some readers have asked me, "What is the most comfortable and stylish shoe for traveling?" It's a tricky question, because everyone has their own style preferences and feet are as unique as individuals. I'm a size 6.5 with a slightly wider toe box and a high arch, so what works for me may not work for others. I did, however, literally try on over 30 shoes this summer in my personal hunt for the best pairs, so hopefully my upcoming reviews will save you some frustration and time!
Packing for 6 months of travel can be tricky. Mr. Wonderful and I aren't backpackers, but we were determined to bring only one carry-on luggage and one backpack each. With our suitcase alone weighing in at about 6-7 pounds, that meant we only had 8 pounds worth of clothes, shoes, accessories and gear we could pack before going over the 15 pound carry-on limit for some airlines. Considering an average pair of shoes is almost a pound, that's no easy feat!
So when it came time to choose the shoes I'd need to pack for our trip abroad, I had to think strategically. I knew I'd be stuck with the same few pairs for the next half year, and they had to meet my following criteria:
1) Comfortable (no pain after walking around all day)
2) Stylish (or at least, not ugly)
3) Versatile (can go with various outfits)
4) Light (preferably under half a pound)
5) Easy to slip on and off at the airport (no laces)
So what did I end up packing in my suitcase? After a month of shopping, visiting stores, ordering from websites such as Zappos and Nordstrom (love their free shipping/returns!) I settled on:
– canvas loafers
– leather sneakers
– sandals
– flip flops
Which brands and styles did I buy? Click here to find out!