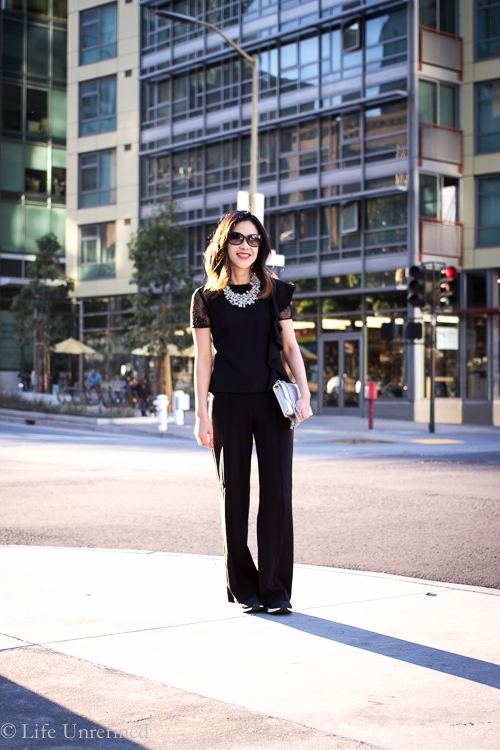 Can you believe 2018 is only a couple of days away? Though I'll likely be in sweatpants (or asleep) when the ball drops, I thought this beautiful Slate & Willow top I recently rented from Rent the Runway would have also made a great option for the big night. Both its ruffle detail and lace sleeves give it a unique look I haven't seen anywhere else.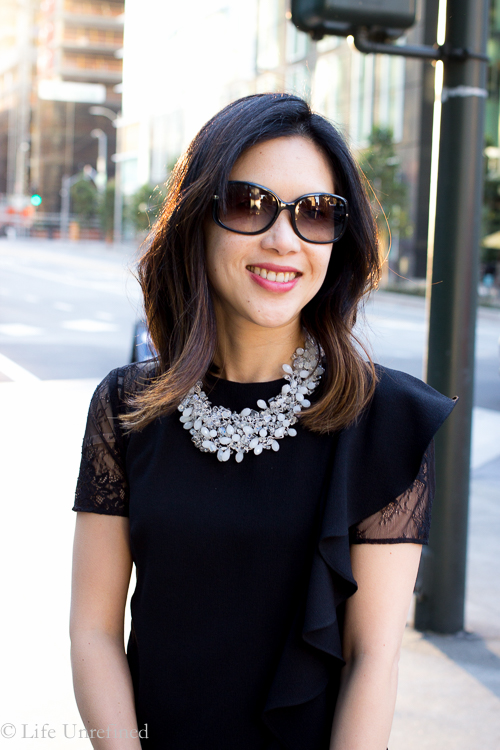 Since I can't wear heels anymore, I paired the top with wide leg pants, which mostly covered my sneakers. I must have tried on nearly two dozen pairs this past season, in search of one that didn't dwarf my petite 5'2" frame or make me feel frumpy. How I miss the days when slipping on a pair of pumps would immediately elongate my figure by two or three inches! I finally landed on Bailey44's Boardroom Pants, which have a high waist to create the illusion of longer legs. I wasn't sure if the elastic waist would make it look too much like yoga pants, but it ended up being very flattering. The waist band keeps the silhouette streamlined, without the annoying gape that comes from pants with a button or hook and eye closure. I didn't have any bunching issue that another reviewer complained about.
I finished the look with an old Zara necklace and you can't go wrong with painting your nails with colour builder gel. I'm typically not a statement jewelry type person, but I found this piece in the sale bin one year for $25, and it was too beautiful to pass up. The white beads contrast nicely against the black fabric, but any color will do.
Wishing everyone a Happy New Year! How will you be ringing in 2018?