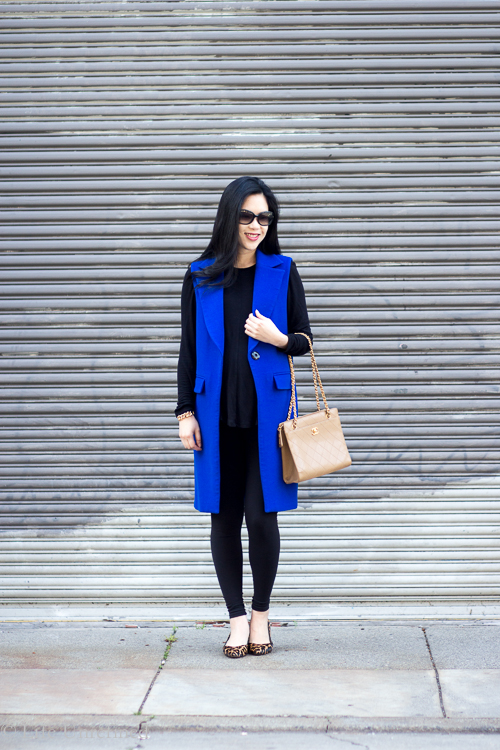 With the launch of Rent the Runway Unlimited this past week, I thought I'd quickly share my recent experience with the service while it was still in the beta program.
Despite the fact the new program wasn't heavily publicized until now, I was put on the waiting list for ten months this past year. In fact, I had nearly forgotten about it until they contacted me two months ago while I was eight months pregnant. I asked customer service if I could wait until I had given birth and lost some weight. After all, why pay for an unlimited service when I would have a very limited selection due to my pregnancy?
Nope, they said. Sign up within two days or lose your spot. After all, according to this article, 40,000 women would love to take the spot.
It was Mr. Wonderful that convinced me to give it a try for a month. It'll be fun, he said, and when else would you get to wear a $1600 dress for a fraction of the price?
Unlimited costs $139/month. It sounds like a lot, especially when the bargain shopper in me considered I could get (and keep!) a couple of decent designer pieces at Nordstrom Rack for that price. And buying clothing online is always a hit or miss. You never know how it will fit until it arrives and you try it on. I knew being eight months pregnant wouldn't make things any easier.
On the other hand, you don't have to worry about the hassle and cost of dry cleaning. Wear the clothes, then return it as is to the nearest UPS store. You can test drive expensive bags instead of risking buyer's remorse with your purchases. And it's perfect for the times you have lots of special events to attend and don't want to be wearing the same two dresses over and over.
The rule is you can rent any three pieces in their inventory at a time. Return one and once their warehouse receives it, you can choose a new piece. On average, the item arrived at my door about 3 days after I picked something out. Not bad considering I live in San Francisco and this company is based in New York. During my one-month trial I was able to rent eight different designer pieces, including the cobalt sleeveless jacket pictured on top, and the Clare V leopard bag featured below. My favorite piece was this Nanette Lepore dress, followed by the Nha Khanh gown I wore to a friend's wedding. The Rebecca Taylor Trace tweed vest became a go-to for a week and I was a little sad to part with it.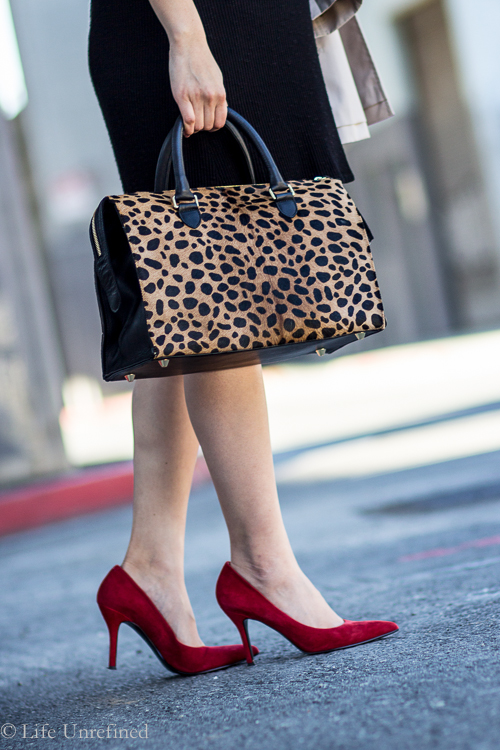 Then there were pieces that were complete flops, like this orange $1595 Derek Lam dress. There should really be an honest disclaimer for items that will just not work on petites, unless their arms reach their knees. And while this navy dress by DVF looked cute on the model and roomy enough for my belly, Mr. Wonderful immediately cringed when I put it on. Return.
All in all, it was a fun month. Do I recommend it? Yes, if you tend to have a lot of social events on your calendar and the idea of trying new clothes and accessories sounds like fun. Bonus if you live in the East Coast (faster turn around), and another bonus if you're at least 5'6″ with a nice bosom. Being pregnant and petite definitely eliminated about half the inventory for me, especially since I normally wear a size 00 and their smallest size starts at size 0 (with most designs starting at size 2). Including accessories in your rentals will help you feel like you got your money's worth.
What do you think of the Rent the Runway Unlimited idea? Would you ever consider trying it?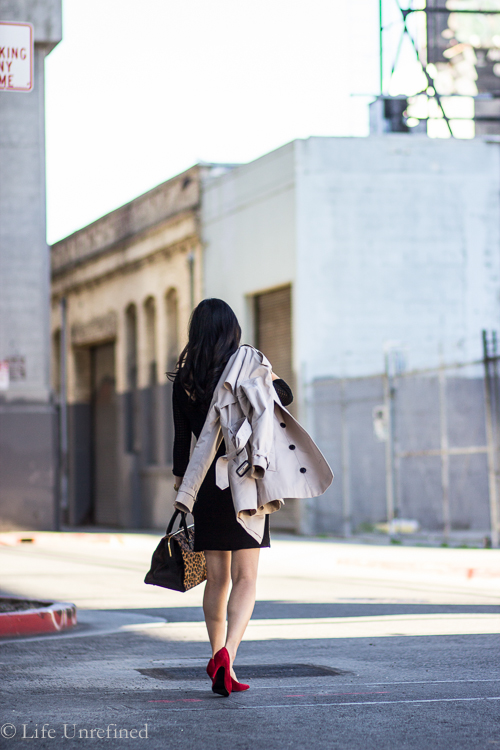 Amadi crosswrap dress (current version), Burberry trench (similar by H&M), Nine West heels, Clare V. leopard Sandrine bag