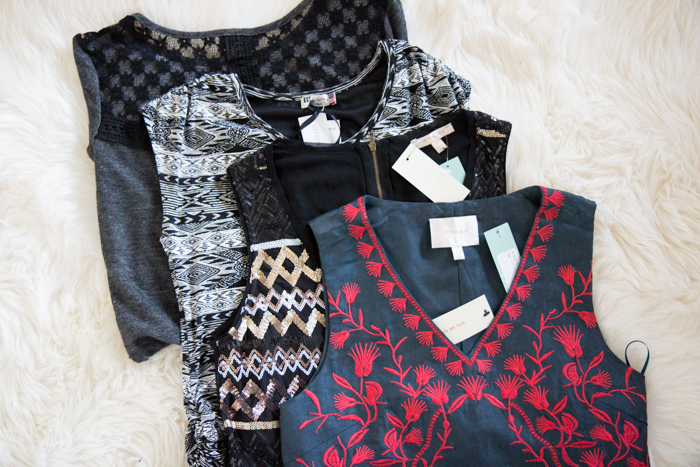 Now that I'm 19 weeks pregnant (eek!), I've stopped fitting into most of my old clothes. I have one pair of super stretchy Banana Republic ripped jeans I wear on repeat (photo below), and a few loose dresses that have become my uniform. I knew sooner or later I would have to buy some new clothes or raid Mr. Wonderful's closet full of free t-shirts (no thanks).
Stitch Fix offers maternity Fixes, which I think is a great idea for a busy mom-to-be. But since I've long resisted the idea of putting money into maternity-only clothing, I wanted to see if I could style my own box of regular pieces that are maternity friendly as well. Here's what I ended up with: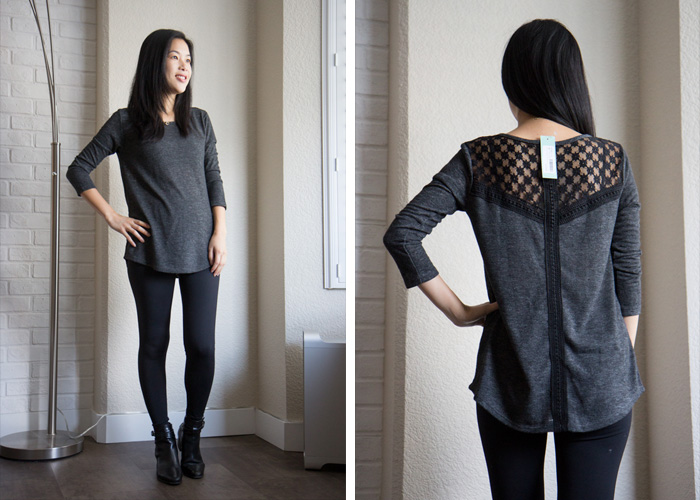 Papermoon Salvador knit top (XS) + Rune Porter leggings (S)
This is not exactly an outfit I would recommend, but for the sake of time (and Mr. Wonderful's patience) I threw them on together for this photo.
I know several moms who rave about the Rune Porter leggings so I've wanted to try them for myself. Unlike my other leggings from Target and even Splendid, these were a nice, thick fabric, which meant you can't see through them. Even though I purposely ordered a much larger size than normal (I'm an XXS, these were a S), they still felt tight. An M might have been better for my growing belly.
The Papermoon Salvador top reminds me of something you would find at Anthropologie. The front is plain and would look better with a long necklace, but the back detail is beautiful. The straps of my bra were of course visible in the sheer panel, but it didn't bother me. The quality was not as nice as I expected (the knit fabric is thin and not that soft), making the $58 price tag seem a tad high. I can see how this top would be problematic with people who don't have skinny arms though – even on mine they felt a bit constricting.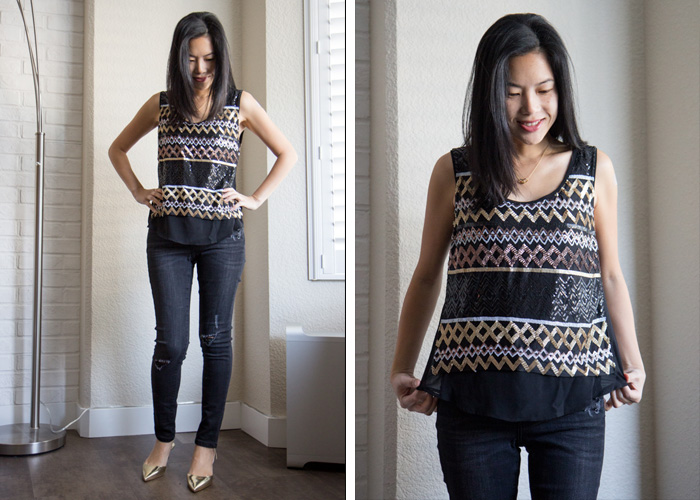 Skies are Blue Kylie sequin blouse
With the holidays around the corner, I wanted a fun, flowy top that I could wear to parties. I love sequins in doses, so this seemed like a potential winner. But for whatever reason, it just didn't excite me. I was surprised at how short it was, even on my small 5'2" frame. I also didn't like the sheer poly on the sides (hello, bra) and bottom, which seemed to wrinkle easily. My lazy self could never be bothered with steaming it before each wear.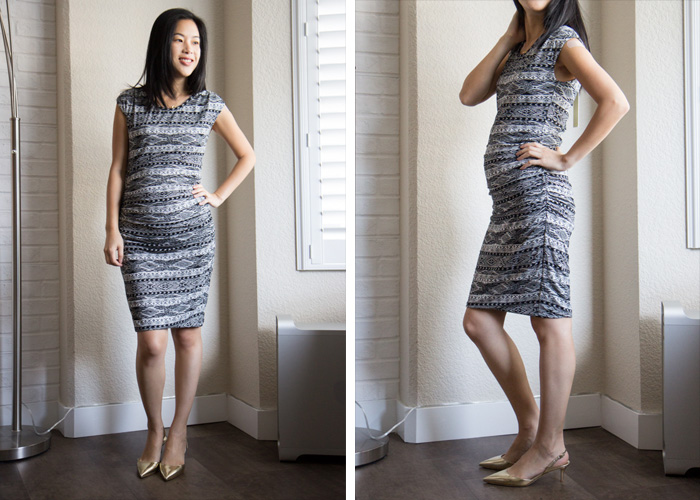 Kut From the Kloth Ferra dress
This was my favorite piece in the whole box. It's incredibly comfortable, the fabric is oh-so-soft, and despite it's fitted shape, I think it would be flattering on many body types. You can see my bump in this dress, which I was surprised to like. I can already think of five different ways to style this dress. Can't wait to wear it out!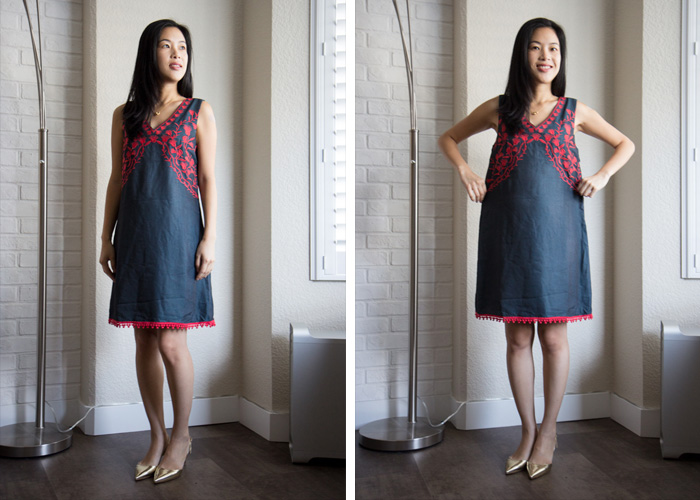 Skies are Blue Vivien dress
Shift dresses are typically not my style (plus orange is one of my least favorite colors), but I was drawn to the unique detailing on this one. It's another piece I could see at an Anthropologie store, but at $64 (compared to $100-$200 Anthro dresses), it is well priced. How adorable is the bottom trim? I was on the fence over the roominess of the cut, but in the end I decided it would be a comfortable dress to wear as my body changes in the coming months.
What are your thoughts on these pieces? Which one's your favorite?

Interested in Stitch Fix? Click my referral form here!