It used to be that I would buy travel shoes with slightly more style than comfort. I survived multiple trips to Europe and Asia this way, bringing my Tory Burch flats and Sam Edelman Trina sandals that were so popular with fashion bloggers. Sure, my feet would hurt a bit after 10 hours of sightseeing, but it was nothing unbearable.
Last year, I wasn't so lucky. In the middle of a trip to Copenhagen, my right foot started hurting badly. It turned out I fractured tiny bones in my foot pad, which sometimes never heals. My podiatrist explained it was simply one too many cobblestone roads in shoes with thin soles, and there was a price to pay. I now have chronic sesamoiditis, so wearing high heels and flats with thin soles can cause a lot of pain for me.
Now that I'm forced to err on the side of comfort over style, my choices are more limited. I spent the summer checking out shoes in stores like The Walking Company, Aerosoles and Clarks, in addition to selections offered at Nordstrom and Zappos. Some pairs, like the Adam Tucker brand I purchased from Nordstrom, felt heavenly when I first slipped them on and then gave me cramps after a few hours of wear. The problem is that we tend to fall for the "cloud-like" feeling of soft padding, but what your feet actually needs is firm padding with some flexibility. Thank goodness for Nordstrom's satisfaction policy! When I explained my situation, they were more than happy to take them back.
After a few months of trial and error, I finally made some purchases based on the five criteria for purchasing travel shoes from my last post. Here they are!
Best Sandals for Travel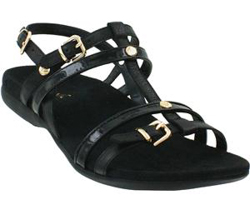 After a lot of online research, I came across the brand Vionic with Orthaheel Technology. Founded by a podiatrist, their shoes are definitely comfortable. I ended up selecting this pair of sandals from their line, which has taken me from walking around all day to going out at night. Do I miss wearing a pair of heels for dinner? Sure. But these are pain free, and according to Mr. Wonderful, a smiling face is always prettier than one that is wincing from pinched feet. My only quibble with the sandals is that it could have been more slimly shaped in the front. My feet are on the wider side of "normal" but there is still a 1/2″ of extra room around my toes. Otherwise I'm happy with the classic (even attractive) style.

Best Flip Flops for Travel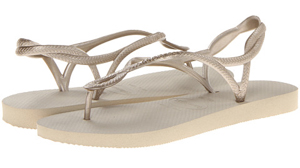 For nearly a decade, I always wore a pair of black Reefs. They were comfortable, they fit, and they were light. They went to every beach destination with me. But when I spied a girl wearing a pair of Havaianas one day, I appreciated how they were a dressier version of your traditional flip flops. I could see them paired with a maxi dress or a cute pair of shorts, and figured they would be more versatile than the standard thongs.
Just for comparison's sake, I ordered other brands of flip flops too. Besides trying on five different Havaianas styles, I also tested Ipanema (love this pair!) and Vionic (because I love my sandals). But Ipanema flip flops weren't as comfortable on my feet, and Vionic's versions were rather chunky. I didn't plan on walking in flip flops all day; I just needed something packable and wearable from the beach to maybe dinner. The Havaianas Luna was the overall winner in terms of comfort and style.
Best Walking Shoes for Travel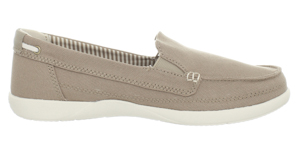 The answer might surprise you, because I never thought I'd be the (very) happy owner of…
Crocs.
Yeah, I know. Those round, plastic, dwarf-like shoes? Even when Crocs first tried to be stylish, I was put off by their round and plastic look. They might be easy to clean, but I couldn't see myself wearing them except for gardening. But when one of my friends told me she was a committed convert after walking in a pair of Crocs for over 8 hours in China, I knew I had to give them a try. "They come in canvas now, too," she informed me. After reading various reviews, I ordered the Crocs Walu loafer in leopard print.
I wasn't in love with the design, but it wasn't bad. And…they were comfortable. Really comfortable. To be sure, I ordered sneakers from other brands, everywhere from the collapsible Nike to Merrells and Pumas. Some cramped my feet, some were plain uncomfortable, and others were just too heavy or big. Now that I've spent entire days walking in these Crocs, I have to admit my friend was right. And they are ridiculously light. And they smush easy for travel. And they have good grip in the rain. And did I tell you they are truly the best walking shoes for travel?
So what about those slip on sneakers?
If you paid attention to the photo in my last post, there were four pairs of shoes I bought for travel, including a pair of Joie sneakers. I'll admit it. They were a splurge, and according to Mr. Wonderful, totally unnecessary. But I love the street sneakers that are trending right now, and out of the ones I tried on, these were the lightest and most comfortable (not as light or as comfortable as my Crocs, of course!). Joie is known for their stylish yet comfortable clothes, so these shoes are in line with what they do best. These require a breaking-in period, though (I got two blisters on the first day).
Any other tips?
I like adding these slim Vionic inserts to my sneakers and walking shoes for added comfort!
What are the most comfortable shoes you own, and what shoes do you pack for travel? Are they the same? Let me know!